Easy Fall Crafts for Kids!!
Here are some fun craft ideas that kids can do for all
of the holidays in the fall season! They are all very easy to do and the kids
First up is Halloween! Halloween is always an exciting time of the year
already for kids! These fun crafts will get them even more excited about the big day!!
The only things you need to make for this craft are:
Party Hats, Paint, Paper plates,Decorations. and Newspaper for easy clean up!!
Then you will make triangle cuts around the center of the plate that can fold up and be taped into the party hat. Make sure that the string inside of the party hat can still be pulled down and used to hole the hat in place!

After you have it secure, just paint it up and decorate it, and you have cute witch hats to use as part of a costume or just for decorations! Cheap stickers are a really easy way for the kids to spice up their Halloween hats-without breaking the bank on crafts!
Thanksgiving is all out reflecting on the people and things in life that you
are most thankful for! This craft is a great way for kids to get creative,
while showing what they are thankful for!
The things you will need for this craft include Pine Cones, Small Craft Pom Pom, Craft Glue, Construction Paper, and Google eyes! You will also want to have a pen, or marker, and scissors near by.
All you need to do to set up is cut small cards for the kids to write on and cut out a few triangle beaks using your construction paper!
Everything is very easy to assemble and there is essentially no mess! Just have your kids write down on their what they are most thankful for and help them glue their cards to the pine cone!
TIP: If you are having a hard time attaching the pom pom to the front of the pine cone- try breaking off a few of the "pricklys" at the top and you will have a flatter surface to glue it to!
Another cute idea for this craft is to trace your children's hands and add on an "I am thankful for.." tail to go along with the other turkeys telling what they are thankful for!
This craft is a great way to spend time with the kids and reflect on family and what really means the most-- as well as teaching kids how important it is to be appreciative. These super cute crafts are also really great for decoration in the house!

Check out more craft ideas at
Creating Couture Parties!
Christmas is my very favorite time of year! It is the time for giving and spending
time with family. This craft is a great way to keep the kids busy
on a chilly winters day and make crafts that they can give to someone special!
Sequin Ornaments!
For this project you will need Sequins, Styrofoam Ball, Ball Pins, Pencil, Ribbon and Newspaper
for easy clean up!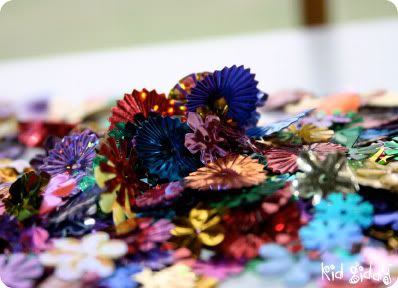 First you will want to use your pencil to poke a hole through the styrofoam ball so that the ribbon can be pulled through. You want to put the ribbon into place before you start so you don't have to worry about the pins being in the way.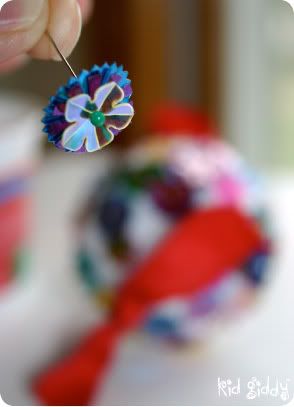 Once you have the ribbon pulled through, start adding your sequins! Carefully slip the sequins onto the pins through the hole in the middle in the middle. Then just push the pins down into the styrofoam ball. You can use different kinds of sequins to make designs or themes as well!
When you're finished placing your sequins, go ahead and tie off the end of the ribbon to ensure it doesn't slip. Then tie a loop at the other end to finish off your sequin ornament!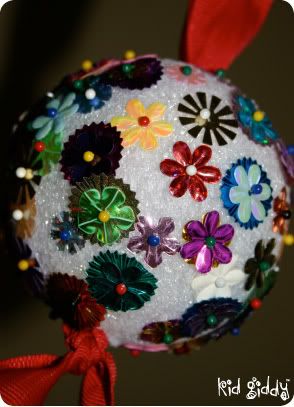 Now you have a really cute handmade ornament that your kids can keep for themselves or give to someone else as a gift! This is without a doubt a crafty way to decorate your tree this season!
For more really cute craft project ideas check out
Kid Giddy
!